An idea....a frugal moment.....a web search.....voila~
Greek yogurt
Thinking about yogurt and how quickly I seem to go through containers of it. I'm partial to
Chobani's
Greek yogurt and often buy many containers for the work week since it seems especially tasty with the granola recipe that Elizabeth posted months ago. I'm a bit excited that there seem to be almost daily new flavors. However, it is expensive and does produce a lot of container waste, so I started thinking about making my own despite the good works done by that company's founder. I'm sure I will end up buying some yogurt...and making some yogurt. I do have a memory of my parents making yogurt...in a groovy 70s sort of way, I suspect.
Elizabeth is the experienced yogurt maker, but I beat her to this blog to talk about it. Maybe she can give me a few hints if it looks like I'm a bit off in my lactobacillus-ing.
I guess yogurt is one of those things I buy without thinking about making it myself..until now. I do like the milkman idea and the milk; however, we are slow milk drinkers around here due to tummy issues. I have a standing order since I use milk in recipes but sometimes find that the order needs to be padded with some orange juice. I'm VERY excited that we can now get half and half delivered as well. I like supporting our local milkman, so this is one more way I can get and use the milk. Although, even without a milkman there are times that one ends up with a bit too much milk.. Being anti-waste, it's good to have a use for milk that preserves it a bit longer.
An extra half gallon of milk was placed on my
milkman order
...and with my Chobani already in the refrigerator....ready to go from here. Hey, check out the article on the link above and you can see my milkman. My sister in SoCal said that she just got a one. Could it be? Gasp...we are ahead of the trend here in Milwaukee!!? There's a picture of ours, so we are pretty certain he is a real person:)
Recipes abound on the internet for yogurt; however, I tried the one linked from above. This one seemed to require little effort...a good thing for a mid-week project. Not too much in the way of fancy equipment. And the step by step instructions were pretty darn nice also!
Here's the condensed version:
Pour 1/2 gallon of milk in a stockpot; remove 2 T milk and place in a bowl. Heat the milk in the stockpot to 180 degrees...stirring almost constantly. Pour into a glass bowl and let cool for an hour. Mix reserved milk and 2 T. live culture yogurt together. Add to milk and mix well. Place in gas oven covered with lid and warm towel overnight.In the morning take a peek; place in the refrigerator if it has thickened. Strain to make Greek yogurt after it is cooled. Reserve 2 T mixture for the next batch.
I have to admit there is a faint odor of baby spit-up after making this. It's not offensive, but I could smell it. Fortunately, it was an early spring day, and I could open the windows and share it with my neighbors!
Much like my cheesemaking adventure, I need to find a good use for the whey. It's a bit wasteful, but I did end up tossing the whey on this round since that was enough of an adventure for this week.
Peace. Love. Good Food.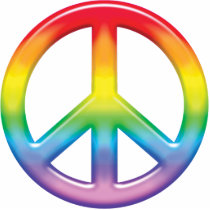 Print Page